Student/Uni study groups & religious/faith groups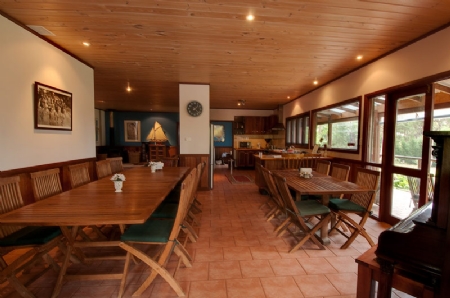 Student/university study groups & religious/faith groups often bookout Bilpin Country Lodge for private group accommodation.
Very affordable midweek stays are popular for student & faith groups. Many PhD groups study & work at their laptops. There's free high speed WIFI throughout Bilpin Country Lodge.
Faith groups often book out Bilpin Country Lodge for fully private stays during the weekend. These are very popular and successful. Self catering is popular with all groups who stay at the lodge.
Bilpin Country Lodge accommodates maximum 20 guests with couples rooms plus family suites. A great mix of rooms for your whole group. Enjoy your own country house with access to all lodge facilities.
Large country kitchen, dining & lounge rooms, BBQ on verandah, giant spa, farm animals, play ground for kids, games room, basketball, outdoor fireplace & much more.
Private group weekend bookings are also very affordable.